Sharks
An estimated 100 million sharks are caught and killed annually, and shark fishing remains unregulated and unsustainable throughout most parts of the world. Trading shark fins has been a longstanding practice for generations, and demand has increased to the point of extinction for many species. Overfishing practices are also to blame for the diminishing shark population.

Rhinos
During the beginning of the 20th century, there were 500,000 rhinos across Africa and Asia. Today, there are less than 29,000 rhinos in the world as a result of poaching and loss of habitat. The growing wildlife trade problem means rhinos are hunted for their horns for use in folk medicine for their believed medicinal properties.

Orangutans
Sumatran orangutans are likely to become extinct in the wild over the next 10 years, with the Bornean orangutans following close behind. Like most endangered animals, wildlife trade is a serious issue for orangutans, and their babies are often traded and sold off as pets. The orangutans' tropical forest habitat is also being destroyed to make room for the rising demand for palm oil plantations.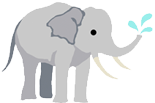 Elephants
At the turn of the 20th century, it was estimated that a few million African elephants and 100,000 Asian elephants were living in the wild. Today, there are roughly 600,000 African elephants and 40,000 wild Asian elephants left with warning signs of imminent extinction. Elephants face grave danger against wildlife traders looking to sell their ivory tusks, as well as struggling to survive in a diminishing habitat due to global warming and human expansion.